Two JCT Students Win Prizes from the CHE
In early February, two JCT students received the Shosh Berlinski Prize for Social involvement in the Community from the Council for Higher Education (CHE). This prestigious annual prize is only awarded to ten students from all institutions of higher education in Israel. The students won the prize, as well as a scholarship for NIS10,000, for their endeavors as part of JCT's Lev Bakehila social project.
Loui Orka is an immigrant from Ethiopia, the second oldest from a family of 12. Loui has been volunteering at the Jewish Institute for the Blind in Jerusalem for two years. He taught the children to swim and ensured their safety while in the pool, however, he provided them with much more than that by conducting one-on-one talks, providing support, and giving encouragement and unconditional love to the children, who were eager to share their feelings with Loui and to learn knew terms as well as life skills.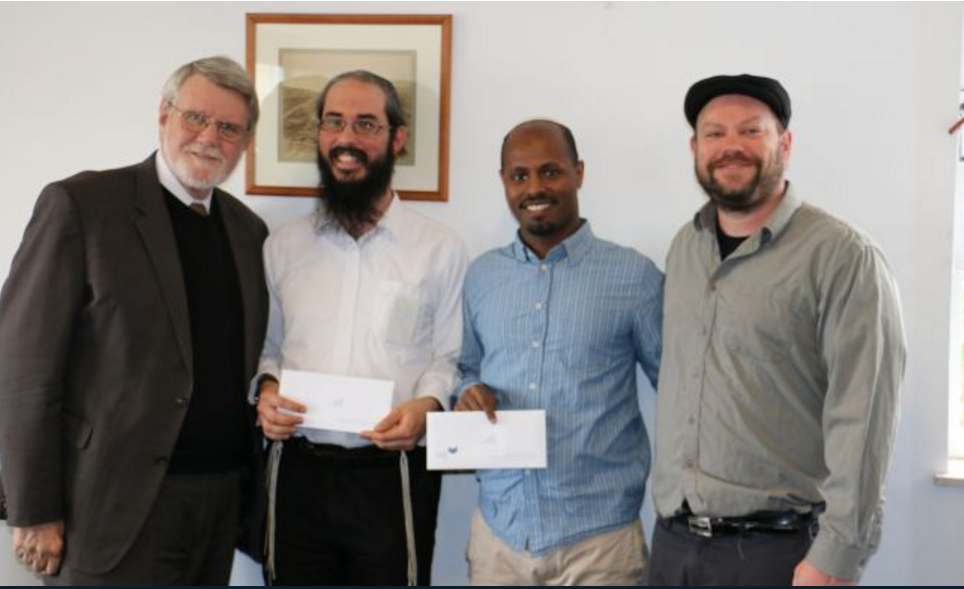 Shaul Horwitz volunteers with two people with special needs: a young autistic man who lives alone, and a 55 year old with cognitive and emotional disabilities. He managed to gain their trust and friendship and was able to communicate with them in a way in which no one, including professionals, has previously managed to do.
When granting the two with the prize, Prof. Sukenik stated that "alongside the success and significant academic achievements, we believe it is important to introduce our students to the outside world and to connect with the community."
"We view people with disabilities as deserving of equal rights and treat them as equals," explains Program Manager Zvika Orr," and we do everything in our power to help them feel fulfilled and bring their unique contribution to Israeli society. "
"Lev Bakehila" (Lev in the Community) is JCT's flagship civic engagement program focusing on the promotion of human rights of people with disabilities, such as, inter alia, housing rights, education, employment, accessibility, due process, and equality. Over fifty students and faculty participate in the program each year.
Students undergo practical and theoretical-academic training. Lectures are provided by professionals in each of the areas of activity of the center. Students assist individuals, communities and even work towards changing and creating policies on a municipal and national level.
To read original article in Hebrew on the Srugim website, click herePresident of JCT Prof. Chaim Sukenik, Shaul Horwitz, Loui Orka, and Zvika Orr