Zuta Labs continutes to make headlines!
The Portable Printer
A miniature and mobile printer landed Tuvia Elbaum and Matan Caspi, who is currently serving in the army reserves, first place in the Creative Cup Israel competition and the chance to represent Israel in the Creative Business Cup Competition in Denmark
The national stage of the competition was held at the Shenkar College of Engineering and Design.

During the finals of the national competition, 7 competitors presented their projects, of which a professional panel of judges selected a winner. The panel participated Prof. Yuli Tamir, President of Shenkar; Yoel Astron, Publisher of "Calcalist"; Ella Metlon, Chairman of the Global Entrepreneurship Week in Israel Foundation; Tami Varshevsky, Head of the Shenkar ACT Center for Innovation; Amit Harel, Manager of the Innovations Division of Deloitte; Doron Tal, Entrepreneur and Innovation Specialist; and Amanda Altorp Sorensan, Trade and Innovation Advisor at the Denmark Embassy in Israel.
The winners who placed first and second will attend the Global Creative Business Cup Competition in Denmark, and will compete against winners from 40 countries for the title of World's Most Creative Entrepreneur.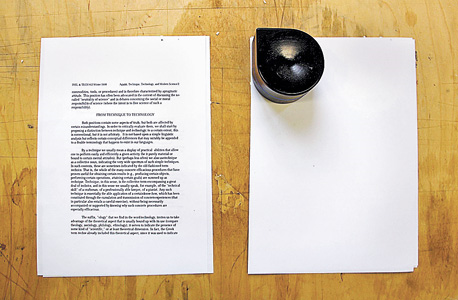 The Zuta Labs project was initiated through the Friedberg Program for Entrepreneurial Excellence at the Jerusalem College of Technology, where Elbaum and Caspi were then studying towards their BA in Business Management. "Several months ago, Microsoft Israel approached us to present at, Think Next, their annual exhibition, held in April," says Elbaum, who accepted the award for both himself and his partner who was called up to serve in the IDF reserves. "We launched the Kickstarter campaign several days later, and ended up raising close to $500,000."
It's not difficult to decipher why the Kickstarer campaign was so successful. "The market already has small and mobile printers, but they only print on small paper. What's innovative about our product is that the paper doesn't pass through the printer, our printer travels over the paper," said Elbaum. "The printer, which is about the size of a baseball, runs on batteries and can connect to a smartphone, tablet or laptop, and then simply rolls over the paper – no matter what size – and produces the image".
Elbaum and Caspi are currently in the process of developing and finalizing the project, and will be distributing the first printers to Kickstarter investors this January. "We expect that by the end of the first quarter of 2015 the printers will be available on the market for $240."