B'OR HA'TORAH Volume 25 Bios
Shimon Lerner
Dr. Shimon Lerner teaches physics at the JCT Lev Academic Center. Born in New York, he moved with his family to Israel while he was a young boy. Upon graduating high school, he entered the Atudah program of the IDF, studying for a degree in electro-optics at Machon Lev and afterwards serving as an officer.
He received his PhD from the Hebrew University of Jerusalem in the field of condensed matter physics, under the supervision of Professor Yuri Feldman. During his formative years he studied Torah with Rabbi Natan Bar Haim of JCT and with Rabbi Aharon Lichtenstein, of blessed memory. Residing in Jerusalem with his wife and children, he regularly teaches a variety of topics in both halakhah, and Torah and science in his local synagogue. He now teaches at the JCT Lev Academic Center, where he sees it as both a mission and a privilege to impart to his students the methods of critical scientific thinking.
Professor Yaakov Friedman
Professor Yaakov Friedman of the Jerusalem College of Technology was born in the town of Munkatch in the former Soviet Union. His father was one of the leaders of the local Jewish community. He graduated from the Faculty of Mathematics and Mechanics of Moscow University in 1971 just prior to his aliyah.
He spent a year at Yeshivat Tomkhey Tmimim Kfar Habad to upgrade his spiritual education, received his PhD in mathematics from Tel Aviv University, and served eight years at the University of California Los Angeles and Irvine as a faculty member and researcher. Upon returning to Israel he served at the Jerusalem College of Technology as lecturer, rector, and vice president for research and head of research authority. He initiated and acted as research and development director of several hi-tech startups and companies. The Lubavitcher Rebbe directed him to continue a career in science as a step for preparing the world for the messianic era.
His research is in pure and applied mathematics, statistics, and theoretical and experimental physics. He is currently developing a new extension of Einstein's Theory of Relativity and testing it at the best synchrotron radiation facilities in Europe. This theory can provide a new insight in understanding microscopic behavior and a breakthrough in quantum computing.
Daniel Turgeman
Daniel Turgeman is currently working on his doctorate in the Department of Particle Physics and Astrophysics of the Weizmann Institute of Science. His research is part of the ATLAS collaboration and focuses on searches for signs of Beyond Standard Model (BSM) physics in data from the Large Hadron Collider (LHC) at CERN in Geneva, Switzerland.
He has coauthored papers searching for evidence of extra-dimensions, low-scale gravity and micro black holes in the most energetic events available at the LHC. This includes a search for strong gravity in multijet final states produced in pp collisions at s√=13 TeV using the ATLAS detector at the LHC(https://arxiv.org/abs/1512.02586) and a search for low-scale gravity signatures in multi-jet final states with the ATLAS detector at s√=8TeV (https://arxiv.org/abs/1503.08988).
Currently he is independently developing a novel technique for discovering other BSM signals (e.g., R parity violating supersymmetry). His MSc was done in the quantum optics lab in the BINA Center for Nanotechnology, Bar-Ilan University, where he had completed a BSc with honors. While at Bar-Ilan he was an instructor for the quantum mechanics 1 and 2 courses. He now lectures at the Davidson Center for Science Education.
Turgeman's formal Torah education consists of studies at the Higher Yeshivah of Tel Aviv Maaleh Eliyahu and rabbinical studies at the Higher Institute of Torah at Bar-Ilan. Other Torah and science publications by him include "Solution to the Parasha of Creation," to be published in Megadim, Herzog College Press. Married, with four children, he lives in Nitsan.
daniel.turgeman@weizmann.ac.il
Rabbi Professor Avraham Steinberg
Rabbi Professor Avraham Steinberg, MD, is an associate clinical professor of medical ethics at the Hebrew University–Hadassah Medical School in Jerusalem. He is the author of The Encyclopedia of Jewish Medical Ethics, published in seven volumes in Hebrew (two editions) and three volumes in English (translated by Dr. Fred Rosner), for which he was awarded the Israel Prize in 1999. Professor Steinberg is a senior pediatric neurologist at Shaare Zedek Medical Center in Jerusalem. He directs the Medical Ethics Unit at Shaare Zedek. Head of the editorial board of the Talmudic Encyclopedia and editor-in-chief of the Talmudic Micropedia, he is also director of its publisher, Yad Harav Herzog. He is a member of national and international societies of child neurology, medical ethics, and Jewish medical ethics.
In Israel, Professor Steinberg is the co-chairman of the National Bioethics Council, chairman of the Dying Patient Committee, member of the Brain-Death Criteria Committee, and formerly chairman of the Organ Transplantation Committee, chairman of the Altruistic Live-Organ Donations Committee, member of the Status of the Fetus and Pre-Embryo Committee, and chairman of the Pathological Specimens Committee.
He is the author and editor of 40 books and public reports in 59 volumes, and more than 280 articles and chapters in scientific journals and books on Jewish medical ethics, general medical ethics, the history of medicine, medicine and law, and pediatric neurology. He has given more than 4,000 expert witness opinions in court cases on pediatric neurology and medical ethics.
Rabbi Professor Moshe Dovid Tendler
Rabbi Professor Moshe Dovid Tendler, noted authority on medical ethics and the relationship of medicine and science to Jewish law, is rosh yeshivah at the Yeshiva University affiliated Rabbi Isaac Elchanan Theological Seminary (RIETS) and professor of biology at Yeshiva College, and he holds the Rabbi Isaac and Bella Tendler Chair in Jewish Medical Ethics at Yeshiva University. Rabbi Tendler was ordained at RIETS in 1949 and received Yadin Yadin in 1953 from Rabbi Moshe Feinstein, of righteous memory. He earned a PhD in biology from Columbia University in 1957. He has served on the Medical Ethics Task Force of the Federation of Jewish Philanthropies, for which he edited the Compendium of Medical Ethics. For nine years he served as its chairman. For decades he chaired the Bioethical Commission of the Rabbinical Council of America. A former president of the Association of Orthodox Jewish Scientists and current member of its board, Rabbi Tendler is the author of Pardes Rimonim (a text on Jewish family life); coauthor with Professor Fred Rosner, MD, of Practical Medical Halachah, a primer for physicians; and author of Care of the Critically Ill—Responsa of Rav Moshe Feinstein, as well as many articles on science and religion in leading publications. He is frequently consulted by the media and public officials on ethical issues.
Michael Szycher
A successful serial entrepreneur, Dr. Michael Szycher has conceptualized, financed, taken public, and run three public companies and founded a fourth over the last forty years. As chairman and/or CEO of companies he has been responsible for public offerings, acquisitions, product introductions, and spin-outs. He obtained an MBA from Suffolk University and a PhD in medical sciences from the Boston University School of Medicine.
Dr. Szycher has a long history of being awarded government contracts and grants. He developed a state-of-the-art battlefield wound dressing for the US Army, an artificial heart for the National Institutes of Health, and an antimicrobial catheter for military and civilian use. He has served as chairman of government review committees and is considered an international expert on polyurethanes. He wrote Szycher's Handbook of Polyurethanes, which has become the industry's standard reference.
Professor Joseph S. Bodenheimer
Editor-in-chief of B'Or Ha'Torah, Joseph S. Bodenheimer is a full professor of electro-optics at the Jerusalem College of Technology – Lev Academic Center and president emeritus of this unique college. He received his PhD from the Hebrew University in physics. He did postdoctoral studies in laser spectrometry at King's College, London University, and discovered two previously unknown phase transitions and also developed a new spectrometric technique.
In 1982, Professor Bodenheimer was appointed head of the electro-optics department of the Jerusalem College of Technology. In 1989 he was elected rector and subsequently, until 2009, was president of JCT. Under his leadership, JCT expanded dynamically to become a world-class institute, supporting Israel's position as a global hi-tech superpower while combining Torah and academic studies. Professor Bodenheimer has endeavored to make Israel a world leader in the field of optical engineering through his students and applied research. Awarded substantial research grants from institutes and foundations throughout the world, he has published over eighty papers and holds eleven patents in a broad range of electro-optical devices and systems. He has served as consultant for numerous high-technology companies in Israel and the United States and as a member of several national scientific committees.
Professor Bodenheimer sets aside time for daily Talmud study and teaching on a regular basis. A founding member of the California chapter of the Association of Orthodox Jewish Scientists, he is a member of the Zomet Institute for Halacha and Technology, a member of the board of Nishmat Center for Advanced Torah Study for Women.
Fascinated by the combination of science and technology with Jewish studies and ethics, Joseph Bodenheimer is a life-long Zionist leader who loves working with young people, especially his own extensive family. He and his wife, Rachel, have eight children and many grandchildren.
Professor Nathan Aviezer
Nathan Aviezer is professor of physics and former chairman of the Physics Department of Bar-Ilan University in Israel. Aviezer is the author of 140 articles on condensed matter physics. In recognition of his important research contributions, Aviezer was honored by being elected a Fellow of the American Physical Society.
In addition to his scientific research, Aviezer has a long-standing involvement in the relationship between Torah and science. He is the author of three books on this subject: In the Beginning (in nine languages), Fossils and Faith (in four languages), and Modern Science and Ancient Faith. Aviezer's course at Bar-Ilan University on Torah and Science was awarded the prestigious Templeton Prize. He is active in the organization of an annual Torah and Science Conference which attracts hundreds of participants from all over Israel. Aviezer was recently awarded a grant from the Templeton Foundation to develop a teaching unit on Torah and science for Orthodox Jewish high schools.
Born in Switzerland, raised in the United States, Professor Aviezer received his doctorate in physics from the University of Chicago and subsequently held a research position at the IBM Watson Research Center near New York. In 1967, Nathan and his wife, Dvora, made aliyah, and they live in Petah Tikvah. The Aviezers have four children and sixteen grandchildren.
Daniel Drubach
Daniel Drubach, MD, completed training in neurology and psychiatry at the University of Maryland and went on to complete a fellowship in neurorehabilitation there. He was head of the Traumatic Brain Injury Rehabilitation Program and codirector of the Coma Emergency Program at the University of Maryland for several years. He then joined the Behavioral Neurology Division at Mayo Clinic, where he has worked for the past seventeen years. He is active in the training of medical students as well as residents and fellows. He has written extensively on the neuroscience of music, meditation, language, religion, and many other topics. He also has published several articles discussing how the application of newly discovered neuroscience concepts can help us answer existential questions about free choice, empathy, mystical experiences, and other phenomena. He has lectured on this subject at multiple academic facilities. His main interest, however, is the interface between Judaic precepts and neuroscience. He is deeply convinced that the study of Judaic works can help us understand the brain, and vice versa.
Simcha Gottlieb, MS, Doctor of Oriental Medicine
Simcha Gottlieb, MS, is a doctor of Oriental Medicine; formerly adjunct professor at the Pacific College of Oriental Medicine (New York and San Diego); currently in clinical practice in an integrative setting at Mount Sinai Medical Center in Miami. He has studied and practiced nutrition and natural medicine for more than four decades—initially as an apprentice and colleague of the renowned nutritional counselor Rabbi Meir Michel Abehsera, and subsequently as a board-certified Herbalist and Acupuncture Physician. His credentials also include many years as a pioneering writer/producer for Jewish Educational Media and chabad.org. His new book, Awesome Aging, is co-authored with his wife, Frumma Rosenberg-Gottlieb.
Rus Devorah Wallen, LCSW, ACSW
Rus Devorah (Darcy) Wallen, founder of Toratherapeutics,® is a social worker, psychotherapist, and educator who conducts workshops worldwide that improve emotional wellbeing . Her work incorporates holistic practice with techniques such as sound healing and therapeutic meditation. An alumna of the Wurzweiler School of Social Work (Yeshiva University), the University of Cincinnati College-Conservatory of Music, and Machon Alta Women's Institute (Safed, Israel), Wallen utilizes her educational background to inspire and heal. With advanced clinical training in several areas of diagnosis and treatment, she specializes in: perinatal wellness, aging, cognitive behavioral therapy (CBT), mindfulness-based cognitive therapy (MBCT), advanced therapeutic ethics, and clinical supervision. As co-founder and clinical supervisor of SPARKS (Serving Postpartum families with Awareness, Relief, Knowledge and Support), Wallen speaks on perinatal issues, including postpartum depression and anxiety. Her Torah-based therapeutic methods and educational materials distill concepts from Torah and hasidic philosophy in a novel way. Wallen is most passionate about her latest endeavor of creating "kosher" healing audio recordings.
Norman Goldwasser
Dr. Norman Goldwasser is a licensed psychologist based in Miami Beach and Boca Raton, Florida. Originally from Newport News, Virginia, he attended high school and yeshivah at the Talmudical Academy and Ner Israel Rabbinical College in Baltimore, Maryland, and then earned degrees in psychology and health sciences from Johns Hopkins University. He completed graduate training at the Medical College of Virginia in Richmond, where he received a PhD in clinical psychology and a master's degree in industrial/organizational psychology.
For twenty-three years Dr. Goldwasser has been the director of Horizon Psychological Services, where he leads an interdisciplinary team of mental health professionals who work collaboratively to meet the increasingly complex community needs. He has spoken at dozens of communities and conferences in North America, as well as South Africa, Australia, Hong Kong, and Israel. His areas of expertise include trauma, addictions, sexual orientation issues, marital relationships, obsessive-compulsive disorder, depression, and adult attention deficit disorder. He has also been a practitioner and consultant in EMDR (Eye Movement Desensitization and Reprocessing), a dramatically successful treatment for victims of trauma.
He is finalizing two books for publication: Acquiring Resilience: A Psychological Exploration of Highly Resilient People and Breaking the Mirror: How to Overcome the Self-Absorption of Narcissism and Achieve Successful Relationships.
Dr. Goldwasser lives in Miami Beach, Florida, where he is active in campus and family-level Jewish outreach. He has seven children and twenty grandchildren.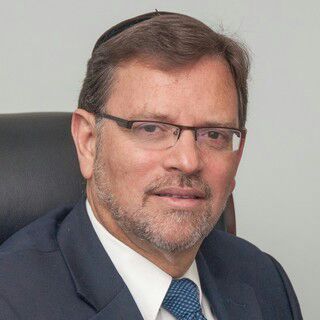 Professor Menachem Feuer
Jewish Studies, York University, Toronto, Canada
Emmy Leah Zitter
is senior lecturer at Shaanan College and Michlalah-Jerusalem College and English Department Head at Michlalah-Jerusalem College. Her academic specialty is American literature. Recently, she has been examining the intersection between secular and Jewish knowledge and has published a study on the influence of Benjamin Franklin on Rabbi Menahem Mendel Levin's classic work of mussar, Heshbon Ha'Nefesh.
Dr Zitter is mother and grandmother to a growing family living in Israel. In her spare time she writes a monthly column for Mishpacha Magazine.
Dr. Zitter's mother, Mrs. Rose Stark, was an Auschwitz survivor who lost her parents, young husband, infant son, and three married sisters and their families in one night in 1944. This background makes the topic of this essay, the binding and near sacrifice of Isaac, a very personal one. The tension between the centrality of sacrifice in our tradition, on the one hand, and the emphasis on continuing life, on the other, is fundamental to her identity. Dr. Zitter views with awe and love the insistence on continuing life that her mother, rebuilder of a Jewish family, exemplified. This essay is dedicated to the whole family, those who were murdered and those who survived in the sanctification of G-d's Name.